Cyn is unable to upload photos onto blogger so here we are sharing some photos with our lovely friends and readers with captions from cyn mommy.
In ICU post Op on Saturday (28 May 2011)
Barely 48hrs post Op on Sunday. Showing me her trade-mark smile n peace sign. Still in pain and couldn't move lower limbs BUT she still smiles for me.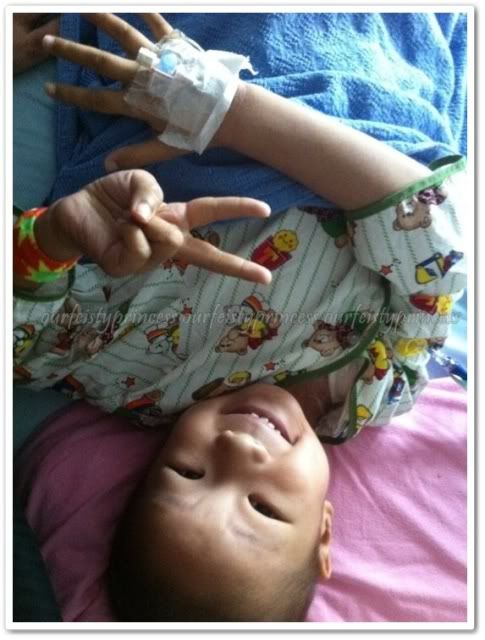 Plug on one hand, needle in her port-a-cath and swallowing medications like they are her daily meals... My little girl is unfazed. Shld have seen her look of determination when the needle was poked into her hand. NOT a single sound literally! No resistance. No shakes and trembles. She kept her hand as still as a statue, held her breath, shut her eyes closed with determination, a face of sheer concentration. Even I was in awe.
I asked her, "How do you do it honey? Even mom can't." She replied, "Actually I was going to cry but than I heard you say it's OK so I just thought it's OK." Her words brought such warmth that I feel so loved. There I was inspired by her bravery and strength, and here she is crediting all that to mommy's words of "It's OK". If only, if only it's truly OK. If only I could have the same strength as hers with just hearing those 2 simplest words from the person one loves most.
Char missed having the cake from her fav shop so we ordered one and celebrated ourselves inpatient! Just my princess and me! She was so HAPPY!
My little princess with a swollen leg, pain, fever, dizziness, nausea and constipation issues... And yet, her spirit is amazing and just look at her posing for her mom despite it all!
There is also a video of lil char and jase singing but I'm not able to upload that.
Seriously, lil char is able to grit her teeth and bear with so such sickness and pain that I feel so ashamed of myself feeling so sickly every single off day for 2 weeks and counting.
Love,
Jolene